Show Run
November, 4 2016 - November, 20 2016
Season
2016/17 Off-Mirvish Season
Producer/Director
David Mirvish Presents Ontroerend Goed production of Fight Night.
Directed by Alexander Devriendt
Cast
Aaron Gordon, Abdel Daoudi, Angelo Tijssens, Aurélie Lannoy, Charlotte De Bruyne and Michai Geyzen.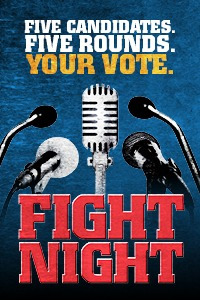 Off Mirvish Series 2016/17
FIGHT NIGHT is playful, immersive theatre. It is a timely, exciting exploration of democratic processes. Every performance is different because the vote is yours and can never be predicted. But can it be? After all, do we really have "free choice" in any election?
Added Talkback sessions after each show.