Author(s)
Book, Music and Lyrics by Irene Sankoff and David Hein (My Mother's Lesbian Jewish Wiccan Wedding).
Venue
Royal Alexandra Theatre
Show Run
November, 15 2016 - January, 8 2017
Season
2016/17 Main Season
Producer/Director
David Mirvish Presents. Directed by Christopher Ashley
Cast
The Broadway and Toronto productions of COME FROM AWAY star Newfoundland native Petrina Bromley (Stratford's As You Like It); Geno Carr (The Old Globe's Dr. Seuss' How The Grinch Stole Christmas); Jenn Colella (If/Then); Joel Hatch (Annie); Rodney Hicks (The Scottsboro Boys); Kendra Kassebaum (Wicked); Tony Award nominee Chad Kimball (Memphis); Canadian Lee MacDougall (Stratford's The Music Man); Caesar Samayoa (Sister Act); Q. Smith (Mary Poppins); Canadian Astrid Van Wieren (North American premiere of Mamma Mia!) and Sharon Wheatley (Avenue Q).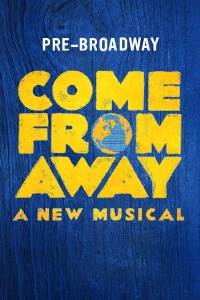 First show in the newly restored Royal Alexandra Theatre. Pre-Broadway - Previews begin February 18, 2017.