Show Run
January, 19 2016 - February, 7 2016
Season
2015/16 Off-Mirvish Season
Cast
Starring Belgian actor Valentijn Dhaenens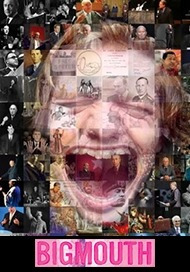 Off Mirvish Series 2015/16
The sell-out hit of the 2012 & 2014 Edinburgh Festivals and an acclaimed hit at festivals around the world, from one of Europe's hottest theatre companies to explode out of Belgium, Bigmouth finally has its Canadian premiere.

In a tour de force performance, Belgian actor Valentijn Dhaenens pays tribute to 2,500 years of oration. Ingeniously weaving together fragments of seminal speeches from not only the Grand Inquisitor and Socrates to Mohammed Ali and Osama Bin Laden, Bigmouth shows that the tricks of rhetoric have hardly changed.

With five microphones on a bare set, his voice and indefatigable energy, Dhaenens traverses sermons, declarations of war, farewells, final arguments, victory speeches and eulogies from across time.
Added Talkback sessions after each show.