IT'S TIME TO BELIEVE IN MAGIC
Group Bookings
Groups of 15 or more save on select performances and seats. Book tickets online or call 1.800.461.3333.
DATES: Arrives May 31, 2022
PERFORMANCE SCHEDULE: Tuesday – Saturday at 7PM, Wednesday & Saturday at 12:30PM, Sunday at 1PM
THEATRE: CAA Ed Mirvish Theatre. 244 Victoria St,Toronto
RUNNING TIME: 3 hours 30 minutes (includes intermission)
AUDIENCE ADVISORY: Theatrical haze and fog. Open flame and loud noises.
AGE SUITABILITY: Recommended for ages 8+.
how to buy a group
Online
Buy your group of 15-29 online. Booking May 31 - October 30, 2022. Full payment is required at time of booking. Please call 1.800.461.3333 for groups of 30+.
By Phone
Buy your group of 15 + by phone at 1.800.461.3333. Booking May 31 - May 7, 2023. Ask about our Payment Plan.
---
ABOUT GROUPS
The minimum group order size for Harry Potter and the Cursed Child is 15 tickets. The group pricing listed here includes discounted rates for select seats (Price 1 - 5), for all performance times excluding Saturday evenings. No discounts available for Premium, Mid-Premium and Price 6 seats. Other restrictions (including Holiday Weeks) may also apply. All prices are in Canadian dollars and include 13% HST and $3.25 CIF. All group orders are subject to a $2.50 service charge per ticket. Pricing may vary and is subject to change without notice.
Download sectioned map (PDF, 810KB)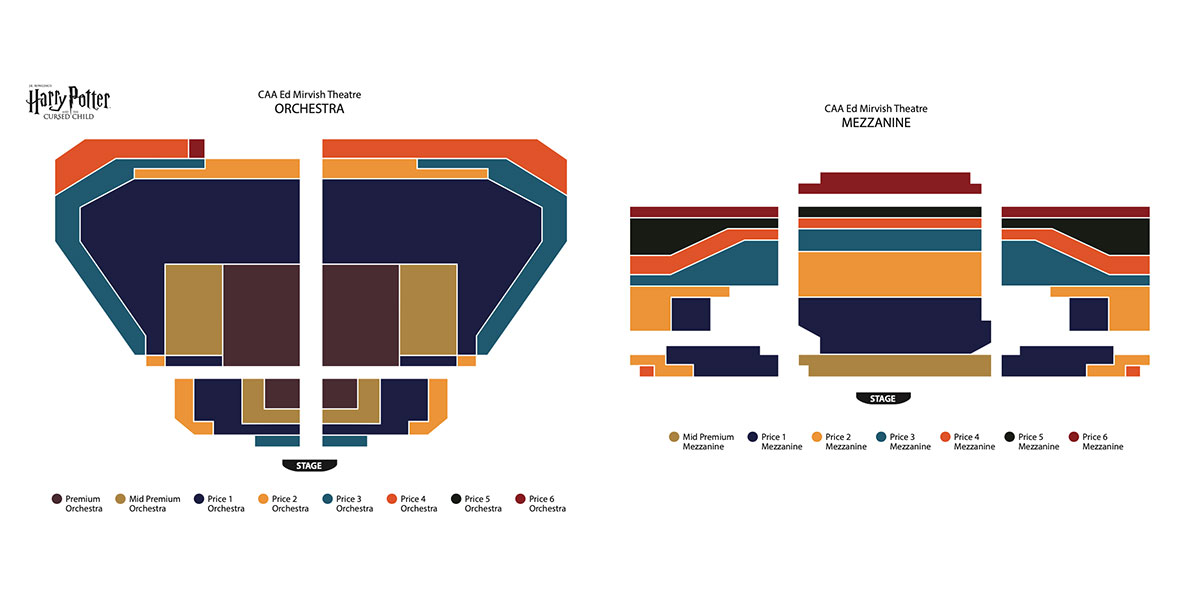 GROUP PRICES
PRICE LEVELS
Legend
TUE-THU 7PM
WED MAT 12:30PM
FRI 7PM
SAT 12:30PM / SUN 1PM
SAT 7PM
Premium Orchestra
$199
$250
$250
Mid-Premium
$179
$199
$199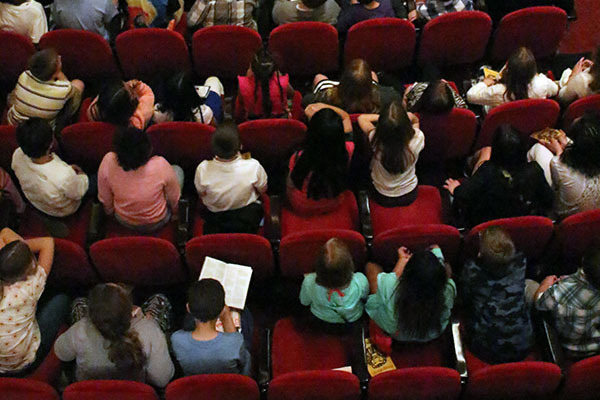 SCHOOLS & EDUCATION
THEATRE BRINGS LEARNING TO LIFE
A world of magic awaits you - the world of Harry Potter on stage.
Leave the classroom and enter the Wizarding World through the magic of storytelling, imagination and stagecraft, in a production that only Harry Potter and the Cursed Child can offer. As part of our ongoing mission to ensure that theatre is accessible to a new generation of audiences, we are delighted to offer Student Group pricing for select performances! Please contact Audience Services 1.800.461.3333 for details.
FREE SCHOOL RESOURCES are available to support your school group visit, including a specially crafted Education Pack offering insights into how the production was staged and classroom activities to explore before and after seeing the production.
HELPFUL INFO / GROUPS FAQS
What qualifies as a group order?
A group sale is defined as a ticket order for a singular performance, meeting at least the minimum group ticket quantity required by a production. Groups of 15 or more save on tickets to Harry Potter and the Cursed Child. Some restrictions apply.
How can I purchase a group order?
Groups bookings can be purchased online, at the box office, or by phone with an Audience Service Representative.
When will I receive my group ticket order?
Group tickets are delivered after full payment is received.
What is the Payment Policy?
What are the Terms & Conditions?
What delivery options are available for group orders?
Group orders will be sent to the group order contact. Delivery options may include e-tickets, mail or courier. Additional fees apply for courier service.
What is the age suitability?
The show is suitable for ages 8 and up. All persons entering the theatre, regardless of age, must have a ticket. Children under 4 are not permitted in the theatre. Please note that children under the age of 15 will not be admitted to the theatre without the accompaniment of an adult.
What is the running time?
The reimagined staging of Harry Potter and the Cursed Child is an epic adventure like nothing ever seen on stage. Packed with thrilling stage magic and electrifying storytelling, this unique, spellbinding theatrical event runs approximately 3 hours and 30 minutes including an intermission.
Is the CAA Ed Mirvish Theatre Accessible?
Email communications
Your email address allows us to keep in contact with you regarding your group order, and enables you to receive updates, new show announcements and special offers from us!
Theatre Etiquette
The role of the Audience is important at every performance. Please take time to review our Guide To Attending The Theatre with your group prior to your visit. Advisory: This guide is designed for student groups, however the content is appropriate for audiences of all ages!
Bus Parking
Bus Pick Up/Drop Off
Buses may legally "stop" to pick-up or drop-off passengers in any area where a "No Parking" or "No Standing" regulation is posted, provided the bus is actually engaged in this activity. Additionally, street signs designating bus Pick Up/Drop Off zones are available on King Street West and Victoria Street, near the entrances to the Princess of Wales Theatre, Royal Alexandra Theatre and CAA Ed Mirvish Theatre. Mirvish Productions is not responsible for any fines issued to buses found parking illegally. Bus drivers can review regulations on the City of Toronto website here.